Profile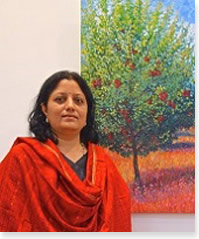 An avid painter, Chitra Vaidya likes to explore themes and subjects in a special way so as bring to life the essence and ethos of her subjects, which have been very diverse as can be seen from her portfolio.
Hailing from the illustrious Wakankar family, Chitra aims to carry forward the rich legacy of her grandfathers, one of whom (Padma Shri Dr. Vishnu S. Wakankar) is best known for his widely acclaimed work relating to discovery and research on cave art at Bhimbetka; whereas the other one Lipikar Shri. L. S. Wakankar) was known for his pioneering work in Calligraphy.
Chitra has been a popular art teacher as she enjoys working with children and kindle the creative instincts in them. She has been conducting art workshops for all age groups and has done live painting demonstrations at several educational institutions.
Chitra completed her graduate and postgraduate studies from Sir J. J. School of Art, Mumbai and has nineteen solo and nineteen group exhibitions at leading galleries to her credit. The range of themes in her exhibitions reflect her active mind and keen spirit of exploration. It is her conviction that realm of painting should go beyond creating a visual document and should in fact reflect the character of the subject. It is this belief and approach to painting that makes Chitra stand out.
Born : 1965
Education
1985 : G. D. Art (Govt. Diploma in Art) from Sir J. J. School of Art, Mumbai
1986 : B. F. A. (Bachelors degree in Fine Arts) from Sir J. J. School of Art, Mumbai
1986 : Diploma in Art Education from Sir J. J. School of Art, Mumbai
1991 : M. A. (Fine Arts) SNDT University, Mumbai
Solo Exhibitions
2018 : IndusInd Bank, Juhu, Mumbai
2018 : IndusInd Bank, Bandra, Mumbai
2018 : IndusInd Bank, Prabhadevi, Mumbai
2017 : IndusInd Bank, Pedder Road, Mumbai
2017 : Indiaart Gallery, Pune
2016, 2012, 2006 : Jehangir Art Gallery, Mumbai
20​15​, 2009, 20​04 : Nehru Centre Art Gallery, Mumbai
2015 : Raja Ravi Varma Art Gallery, Pune
2013 : Invited for a solo show for Citi Wealth, Pune
2008 : Hotel Kohinoor Continental, Mumbai
2004 : Showcase Art Gallery, Mumbai
2004 : Wakankar Shodh Sansthan, Ujjain
2003 : Hotel J W Marriot, Mumbai
2001 : Kalamandir, Prabodhankar Thackeray Complex, Mumbai
2000 : Sathe Kaladalan, Kalyan
Participation in Group Exhibitions
2015 : "Colours of Life", art exhibition and sale in aid of cancer patients
2014 : "Art Fusion Show 2014" at Hall of Progress, Nehru Centre, Mumbai
2014 : "Celebrating Womanhood" which featured 24 women artists from India
2014 : "Soul Sante", a spiritual expression which featured 13 artists
2011 : My Spirituality by Chitraspandan at Kalabhavan, Thane
2010 : Dhara Monsoon Show by Chitraspandan at Kalabhavan, Thane
2009 : Indiaart Gallery, Pune
2005, 2006, 2008, 2009 : Chatak Monsoon Show, Nehru Centre, Mumbai
2002, 2004, 2006 : Indian Oil Art Exhibition, Mumbai
2003 : State Art Exhibition at Nehru Centre, Mumbai
2000, 2002, 2003, 2004 : Art Society of India - Annual Exhibition at Jehangir Art Gallery, Mumbai
Awards
2002 : "The best painting in the Exhibition by a Lady Artist" - Art Society of India
2000 : "Outstanding Realistic Landscape" - Art Society of India
Projects and Commissions
Was commissioned by Indian Navy to create paintings for INS Kolkata, INS Kochi and INS Chennai
Was commissioned to create paintings for a reputed chain of retreats in Himachal Pradesh
Was commissioned to create several paintings by corporate clients and hospitals for putting up in their premises as well as for gifting purpose
Teaching Experience
Full time Art Teacher from 1987 to 1993 at reputed schools in Mumbai including Parle Tilak Vidyalay, Mary Immaculate Girls High School, Saifi High School. From 1995 onwards, have been teaching drawing and painting to students appearing for Elementary and Intermediate level grade examination, college students as well as hobby artists.
Professional Development
Practised watercolour painting for 10 years (1998 - 2008) under the guidance of late Shri. M. K. Kelkar who was a student of the well known master late Shri. S. L. Haldankar.
Art Workshops, Demostrations, Events and Projects
2018 : Outdoor workshop at kanheri caves, National Park, Borivali
2017 : Khula Aasmaan workshop by Chitra Vaidya at NEMS (New English Medium School), Pune
2017 : Khula Aasmaan Workshop on the occasion of Children's day, at Orion School (ICSE), Mumbai
2017 : Outdoor Workshop at Ismile Yusuf College, Jogesgwari, Mumbai
2017 : Wall Painting Workshop
2016 : Mood Indigo Festival, IIT, Mumbai
2016 : Watercolor painting workshop at Indiaart Gallery, Pune
2016 : Speaker at Education Boutique - Career and Admission Fair by Education Times, Times of India, Mumbai
2016 : Art Walk 360 - a public art project by Arcil to paint the long wall at Tulsi Pipe Road, Mumbai
2016 : Live painting demo at the wedding​, Turf Club, Mumbai
2015 : Part of organising team for Khula Aasmaan, a platform for creative expression for children & young students
2014 : Children's Art exhibition at Nehru Centre, Worli, Mumbai organised by Indiaart.com
2014 : Organised an Art Workshop at Vile Parle for Children
2013 : Outdoor Sketching and Painting Workshop at Borivali National Park, Mumbai February
2012 : Organised an Outdoor session with students appearing for Intermediate Grade Examination
2012 : Painting demonstration at Empress Garden, Pune, organised by Art India Foundation
2011 : Watercolour painting at Madhavrao Bhagwat High School, Mumbai organised by Art India Foundation
2011 : Watercolour painting workshop for hobby artists (1 day) at Lonavala
2011 : Art workshop during Diwali for school children (4 days) at Parle Tilak Vidyalaya, Vile Parle, Mumbai
2011 : Watercolour painting on the occasion of late Shri M. K. Kelkar's death anniversary at Dadar, Mumbai
2011 : Watercolour painting at Jnana Prabodhini Prashala, Pune, organised by Art India Foundation
2009 : Teacher training program for art teachers at Shri N. D. Bhuta High School, Andheri, Mumbai
Jury at
​2016 : Inter IIT painting and sketching competition, Mood Indigo, IIT, Mumbai
​2016 : Kshitij Festival - Mithibai College​, Mumbai
2016 : Umang Fest, NM College, Mumbai
2015, 2016, 2017 : Malhar Festival of St. Xaviers College, Mumbai
2015 : Khula Aasmaaan, contest for children organised by Indiaart.com
2014 : Art Contest for Children organised by Ministry of Power, Govt of India
2014 : State Level painting Competition on 'Energy Conservation' for school children
2014 : 'Earth Day Painting Competition', Bombay Natural History Society (BNHS), Mumbai
2012 : 'Blow Fest' Inter college Festival, National College. Mumbai
Articles
Contributed articles on Art for the monthly magazine for children "Chhatra Prabodhan" published by Jnana Prabodhini, Pune
Travels
Travelled in India and Europe for visiting museums, galleries and for sketching and painting