Painting demo, Painting workshop at IIT Bombay
Painting workshop and painting demo at Mood Indigo of IIT Bombay was an invitation I could not refuse.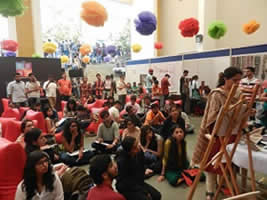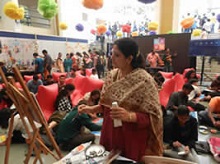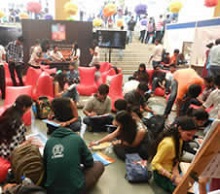 Mood Indigo, the annual cultural festival of Indian Institute of Technology, Bombay, is the biggest college cultural celebration in Asia. On the 47 th year of Mood Indigo, I was invited to conduct a canvas painting workshop and a painting demonstration.The idea of workshops was to engage with a larger section of the crowd. The thought was also to introduce new forms of art and skills to the participants.

Students from various colleges of all over India, had participated enthusiastically. There were so many events going on and the place was crowded. But it was well managed by the organisers. They managed the set up for my demonstration apart from distributing the material among participants.
Painting demonstration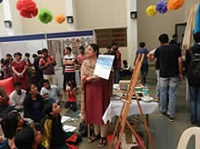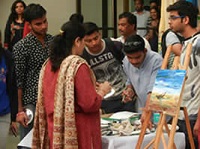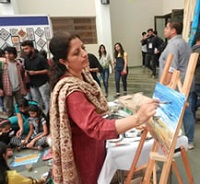 I quickly started my painting with bold strokes of knife and created background with abstract thick patches. This created curiosity among the painting workshop participants. They started guessing as to what I was planning to paint. At the end, when I drew a boat and a fisherman on canvas, the whole painting became meaningful. This painting tutorial was very much appreciated by all participants. They were inspired to work on their own painting.
Painting workshop
The participants in the canvas painting workshop started with their own painting after the painting demonstration was concluded. It was wonderful to see them trying to put their best in the painting. Observing the participants of the painting workshop painting on their own, attracted more students to the workshop venue. Painting session was followed by their queries about various techniques of painting and how to develop the art of painting as a hobby. The painting workshop went off very well. Each participant had a beautiful painting to take back. The best thing was that this painting was their own creation.